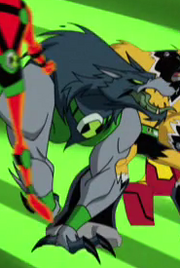 Benwolf


Vital statistics
Species
Loboan
Homeworld
Luno Lobo/Anur Transyl
Powers
Enhanced Strength
Enhanced Agility
Sharp Claws
Sharp Teeth
Sonic Howls
Enhanced Smelling
Enhanced Hearing
Enhanced Climbing
Enhanced Bite
Enhanced Reflexes
Enhanced Durability
Body Type
Humanoid Canine
Voice
Tara Strong
First Appearance
Benwolf (episode)
Blitzwolfеr is the DNA sample of a Loboan from the planet Anur Transyl's moon, Luno Lobo.
Appearance
wicked awesum 
Ben 10
Blitzwolfer is a wolf-like alien with long, clawed arms and short, clawed legs, each with sharp ends at the elbows and knees. He has grey fur on his body and snout and blue fur on his head. His snout opens into four sections, and is green inside. He has green eyes. He wears a black-and-white outfit with the Omnitrix on his waist.
Ultimate Alien
He looks the same as in Ben 10, only with the Ultimatrix on his chest.
Powers
Blitzwolfer has a powerful sonic scream. He also has enhanced strength and durability. He can use his scream to extend his jumps. He also has powerful claws, so a scratch may be quite painful as well is his bite. It can be assumed that he can smell 1000X better than that of a human. Blitzwolfer also has exceptional hearing, due to his large ears. The Yenaldooshi also preformed much stamina, stronger howls, and speed, but this is probably due to him being perhaps older, wiser of his powers, or more experienced.
Appearances
Ben 10 Season 3

| 1 | 2 | 3 | 4 | 5 | 6 | 7 | 8 | 9 | 10 | 11 | 12 | 13 |
| --- | --- | --- | --- | --- | --- | --- | --- | --- | --- | --- | --- | --- |
| N | N | N | N | Y | N | N | N | N | N | N | N | N |
Y: Means that this alien was used by Ben in that episode.
N: Means that this alien was not used by anyone in that episode.
S: Means that this alien was used by someone other than Ben in that episode. (hover over the letter to see by who)