Bellwood is the home town of Ben Tennyson and is the main setting of Alien Force, Ultimate Alien, and Omniverse. It has a 20,000 population.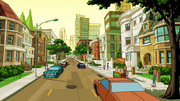 Notable Residents
Notable Locations
Trivia
It's called Bellwood because there was a bell made of wood. This was discovered in Malefactor.
There are only two high schools.